VGNRWY CABOOSE 308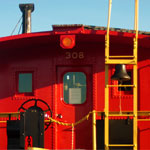 The VGN 308 was one of twenty-five cabooses built by the St. Louis Car Company in 1948-49, for the VGNRWY. They were numbered 300-324.
It was donated by the Norfolk and Southern to the City of Princeton in 1989.
In the fall of 2010, it was brought to its new home here at the museum.
The Princeton Railroad museum has restored this caboose. We had the floor fixed and we had the caboose re-painted. Did you know there's a special shade of red just for the caboose? It's called "caboose red," appropriately. Come by the Princeton Railroad Museum to see it in person.
Thanks to Bo Barker and all the men at the Princeton Public works Department for the hard work.
Click this picture to enlarge.